We are committed to trying to help all of our customers through these unprecedented times as best we can. As such, we would like to remind you of the partnership between DGL Practice Manager and Pharmacierge to enable free same-day or overnight delivery of prescription medication directly to your patient's door.
Pharmacierge receives prescriptions from medical consultants and GPs, and provides free same-day delivery within London postcodes and free next working day delivery nationally. Through our partnership with Pharmacierge, private consultants and GPs in the UK who use DGL Practice Manager product are able to access the service directly through their existing system.
Simply, login to DGL Practice Manager. At the bottom of your home screen, you will see the "free delivery for patients" button, as shown in the below image. Simply click on it to begin signing up for the service.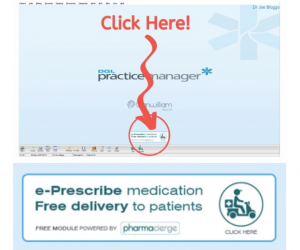 The Pharmacierge Team will verify your details and contact you via email or phone so that you can begin registering your users.
Our hope is that this service will help to reduce the amount of time spent by patients waiting for their prescriptions, reduce footfall and queues in pharmacies and support the social distancing measures that have been recommended.
This service is completely free for all DGL Practice Manager users and it's really easy to set up.
For any help with Pharmacierge registration please contact registration@pharmacierge.com or call 0207 631 1269.
As your software provider, we are here to help however we can.
Please remember that while our offices remain closed we are all working remotely and are set-up to help you however we can. If you have any issues please email dglsupport@clanwilliamhealth.com.